Disponible la segunda temporada de The Crown en Netflix
Después de algún tiempo sin saber mucho de la producción de Netflix, The Crown llega con su segunda temporada más fuerte que nunca, este viernes 8 de diciembre a las nueve y un minuto de la mañana.
Seguro que más de uno no podéis con las ansias que ha generado la primera temporada de The Crown, así que no os podéis perder esta segunda temporada
No os perdáis la crítica que estamos preparando para esta nueva temporada.
The Crown reparto
Se ha hablado mucho del increíble reparto de esta fantástica serie de Netflix. Protagonizada por Claire Foy, Matt Smith y Vanessa Kirby, unos actores con un pasado en el cine muy profesional. Queremos enseñaros un video muy especial donde Vanessa Kirby (princesa Margarita) y Matthew Goode (Antony Armstrong-Jones) comentan algunas reflexiones muy interesantes acerca de sus famosos personajes ingleses.
Un detalle también de netflix compartir con nosotros esas tomas de la serie y los comentarios de los personajes del momento.
The Crown sinopsis
The Crown es una serie creada por Peter Morgan y producida por Netflix de carácter biográfico que se centra en la vida de la Reina Isabel II de Inglaterra y la historia mundial que ha tenido lugar a lo largo de su extenso reinado. La serie explora la vida personal de la Reina, pero también plasma el mundo de la posguerra, con la sociedad en constante transformación debido a los distintos y bruscos cambios acontecidos, hasta la situación de relativa calma actual.
La ficción histórica empieza con la princesa Isabel, de tan solo veinte años, y la deprimente perspectiva del futuro de la monarquía en un mundo destruido y amenazado por la guerra, al tiempo que intenta estrechar su relación con el primer ministro del país Winston Churchill. A través de su visión, se podrán ver las rivalidades políticas e intrigas personales de los principales personajes de la historia contemporánea de Inglaterra, haciendo principal hincapié en las relaciones que existen dentro de la misma familia real.
Segunda temporada de The Crown
The Crown de Netflix cuenta la increíble historia del reinado de Isabel II, cuando se desmonta el frágil orden social establecido después de la Segunda Guerra Mundial.
La segunda temporada empieza con los soldados de las Fuerzas Armadas de Su Majestad librando una guerra ilegal en Egipto y termina con la caída de su tercer Primer Ministro Harold Macmillan tras un devastador escándalo. La nueva entrega será testigo del fin de la era de la sumisión y marcará el inicio de la revolucionaria década de los 60.
The Crown sigue registrando los eventos políticos globales que han definido y dado forma a la segunda mitad del siglo XX, una serie sin precedentes en su escala, ambición y visión creativa.
The Crown Tráiler de la temporada 2
Reseña – Aquaman: Una aventura épica del Rey de Atlantis
Hemos podido ver este lunes Aquaman y hoy le traemos la reseña sobre esta gran cinta dirigida por James Wan, Aquaman es la sexta película del DCEU que comenzó con una gran cinta como lo es El Hombre de Acero (2013) pero luego ha tenido un par de tropiezos como lo fueron Escuadron Suicida (aún no entiendo como ganó un Oscar) y La Liga de la Justicia, ahora James Wan ha cambiado el juego y ha hecho esta película a su modo, a su estilo y le ha salido un producto muy bueno.
Aquaman, Un Rey que no quiere ser Rey
Si le preguntas a cualquiera si quisiera ser un Rey de una ciudad avanzada tecnologicamente y con muchos recursos lo más lógico es que te digan que si, pero ese no es el caso de Arthur, a el no le interesa el trono, el solo usa sus habilidades para ayudar a las personas, no está interesado en ser un monarca ni un lider, el es un hombre solitario que no disfruta trabajar en grupo.
En esta cinta vemos el recorrido del héroe muy marcado, ya que lo vemos desde su nacimiento hasta convertirse en Aquaman el Rey de Atlantis, Arthur es el resultado de la unión de dos mundos, el mundo submarino y el mundo terrestre, se supone que el sería el puente entre los dos mundos, pero no pudo disfrutar de su madre por mucho tiempo ya que esta tuvo que sacrificarse para salvar su vida y la del padre de Arthur.
Asi que este chico toda su vida solo ha buscado una cosa, su motivo principal era encontrar a su madre, por eso aceptó ser entrenado por Vulko (interpretado magistralmente por Willem Dafoe), éste le enseña como pelear, como nadar, como manejar correctamente el tridente de su madre; y es un entrenamiento que duró por varios años, pero a pesar de que Arthur cumplía con cada entrenamiento que se le pedia, a pesar de que superaba cualquier obstaculo siempre recibía la misma respuesta de Vulko, que aún no estaba listo para conocer donde estaba su madre.
Jason Momoa y Amber Heard cargan con el peso de la película
Tenía mis dudas con este duo, no tanto por el lado de Momoa, sino por el de Amber ya que no le habia visto aquel talento que muchos si le atribuyen, pero debo decir que sali de la sala de cine gratamente sorprendido con ella, ya que supo defender su personaje y encajar a la perfección en la película, no era simplemente un adorno que estaba alli para distraer, sino todo lo contrario, es muy importante en la resolución de muchos conflictos que se le presentan a Arthur.
Hay algo del personaje de Arthur que llama la atención y es su evolución durante la película, el se creía que era muy poderoso, pero claro se enfrentaba a simples seres humanos, cuando bajó al oceano y se enfrentó con los de su especie las cosas fueron muy distintas, y el se lo dice al personaje de Mera "en cada pelea que me meto solo recibo palizas", luego al final tambien siente culpa por algo que el permitió y pudo evitar, el arco argumental de Arthur hasta ser el Rey de Atlantis esta muy bien llevado y contado.
Por mencionar a otros personajes destacar a Vulko (Willem Dafoe) y a la Reina Atlanna (Nicole Kidman), Dafoe aqui lo vemos como un consejero del Rey, tambien como un entrenador disciplinado pero que es una persona leal y con principios, no deja que las ideas radicales de el Rey Orn lo manipulen, Nicole Kidman tiene muy buenos momentos al comienzo y al final de la cinta, Dolph Lundgren si me parece un poco desaprovechado la verdad, pudo haber dado más juego en esta historia y ni hablar de Djimon Hounsou que su personaje estuvo como 40 segundos en pantalla.
💰Aquaman es oficialmente la película del DCEU con mayor recaudación global💰
Cuenta con dos villanos pero solo uno de ellos convence
Aqui se presenta a dos villanos, al hermanastro de Arthur, el Rey Orn y a Black Manta, comenzemos con Orn, el quiere ser el Amo del Oceano, y con todo ese poder militar enviar una cruzada a la superficie para terminar con la raza humana, ya que nosotros como especie estamos destruyendo su ecosistema con basura y desechos toxicos, y es que, tiene un punto de razón porque es la verdad, a veces no sabemos lo que estamos haciendole a este hermoso planeta.
Ahora hablemos de Black Manta el personaje más flojo para mi, lo sacas de la película y no pasa nada, su peso en la cinta es menos que cero, primero que todo busca a Aquaman para atravesarlo con su cuchilla a cuenta de… aun no se, porque no nos explican este odio de Manta hacia Arthur, parece que solo quiere matarlo porque si. Luego si es verdad que tiene que vengarse de el y ahi tiene un motivo para ser villano, pero se queda muy por debajo de lo minimo exigible para una cinta de esta magnitud.
Queda por ver que será de Black Manta en el futuro cercano del DCEU, la escena post creditos nos da una pincelada de lo que puede ocurrir… y si, seguirá buscando a Aquaman para vengarse de lo que le hizo, esperemos que el futuro guión dote a este villano de un trasfondo más convincente o que el actor mejore sus registros porque ahora mismo no me invitan al optimismo.
En conclusión…
Es una excelente película, una obra de arte en muchas escenas, Jason Momoa y Amber Heard llevan el peso de la película y Patrick Wilson, Willem Dafoe y Dolph Lundgren estan gravitando alrededor de ellos, hay que destacar la fotografía de la película, los efectos visuales por fin me parecen que estan bien implementados, no como en Batman v Superman que a veces el traje de Batman parecía plastico mojado, ahora ¿Es la mejor cinta del Universo Extendido de DC? Probablemente la mejor con Wonder Wonam, ha dejado la vara muy alta, queda por ver que nos tiene preparado Patty Jenkins con Wonder Woman 84.
9 películas de terror que PROBABLEMENTE se estrenen este año
9 películas de terror que PROBABLEMENTE se estrenen este año. Algunas son secuelas o reboots de propiedades establecidas, pero algunas son originales en total. Algunas estrellas muy reconocibles aparecen en estos proyectos.
9 películas de terror que PROBABLEMENTE se estrenen este año
Una vez más, todos suenan prometedores, así que esperamos que no tengamos que esperar mucho para verlos.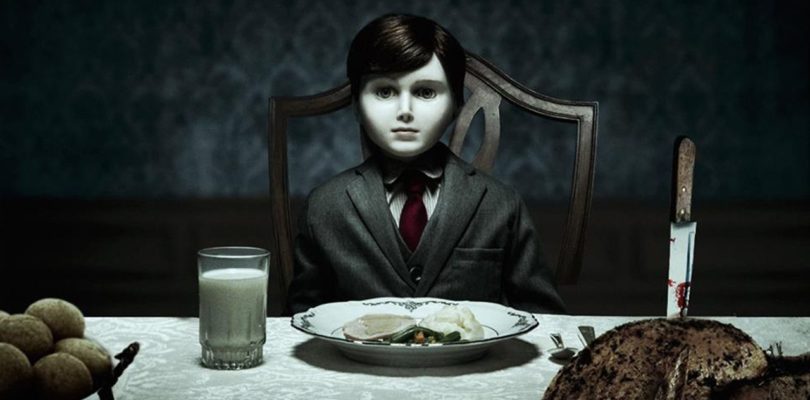 THE BOY 2
Lanzada en 2016, The Boy es la historia de una joven contratada para ser una niñera, solo para darse cuenta de que está cuidando a un muñeco de tamaño natural con capacidades espeluznantes. De ninguna manera fue un éxito gigantesco, aunque ganó $ 64 millones en todo el mundo, con un presupuesto de $10 millones. Eso fue suficiente para justificar una secuela.
Katie Holmes ha firmado para protagonizar. Ella y su familia se encontrarán con la misteriosa muñeca, presumiblemente enfrentando el terror en el proceso. La filmación está programada para comenzar a principios de enero por lo que, si la postproducción se puede terminar con la suficiente rapidez, podríamos ver The Boy 2 más adelante en el año.
3 FROM HELL
No se sabe mucho acerca de Rob Zombie's 3 From Hell , pero lo que sí sabemos debería ser suficiente para aumentar el nivel de emoción de los fanáticos del horror. Esta es una secuela oficial de su éxito en 2005, The Devil's Rejects . Esa película termina de manera algo ambigua, y el público no está completamente seguro de si los tres personajes principales han sobrevivido.
GALLOWS II
Producido por solo $ 100.000, The Gallows ganó $ 42 millones en todo el mundo. Ese tipo de relación de ganancias es algo que cualquier cineasta desearía tener. Por lo tanto, no es de extrañar que haya una secuela en camino.
Gallows II se filmó en secreto, por lo que el anuncio de su existencia en 2017 fue una sorpresa. Todo lo que sabemos sobre la trama es que gira en torno a una joven que está acechada por un espíritu maligno en la prestigiosa escuela de actuación donde estudia. Aún no hay una fecha de lanzamiento confirmada, pero una vez que se completa la película, un debut en 2019 es completamente plausible.
POLAROID
¿Será 2019 el año en que las audiencias finalmente vislumbrarán a Polaroid ? La película, sobre una vieja cámara Polaroid con habilidades fatales, fue originalmente programada para estrenarse el 22 de noviembre de 2017. Menos de un mes antes de esa fecha, el estudio la sacó bruscamente de su lista de lanzamientos, sin ninguna explicación.
Por supuesto, ese estudio era la compañía Weinstein. Su jefe de orquesta, Harvey Weinstein, se encontraba en medio de múltiples acusaciones de hostigamiento y asalto, y como resultado el estudio se tambaleaba. Informes recientes dicen que Netflix ha adquirido los derechos y puede transmitir Polaroid en los próximos meses.
MA
Octavia Spencer no es la primera persona que se espera que protagonice una película de terror, pero eso es precisamente lo que está haciendo. La actriz tiene el papel principal en Ma, una producción de Blumhouse dirigida por su amigo Tate Taylor, quien también realizó The Help.
Spencer interpretará a una mujer que actúa como una madre del den a un grupo de adolescentes, solo para revelar algunos motivos ulteriores potencialmente problemáticos. No está claro cuándo llegará la película a los cines, pero Blumhouse ya ha apostado varios fines de semana de 2019 para lanzamientos no especificados. Uno de ellos probablemente esté destinado a mamá .
GRUNDGE
Grudge es una nueva versión de The Grudg e de 2004 , que fue en sí misma una nueva versión de una película japonesa de 2002 llamada Ju-On: The Grudge . El director Nicolas Pesce tenía toda la intención de lanzar la película, protagonizada por John Cho, Lin Shaye y Andrea Riseborough, en 2019. Sin embargo, una demanda podría evitar que eso suceda.
El productor japonés Taka Ichise presentó una demanda por incumplimiento de contrato contra la compañía de producción en julio, alegando que se le negó el crédito de un productor con obligación contractual. Dependiendo de cuánto tiempo demoren los tribunales para resolver este asunto, Grudge podría debutar a tiempo o retrasarse indefinidamente.
CRAWL
La mayoría de las películas de terror intentan asustarte mucho. Otros abrazan premisas extravagantes que tienen un toque de humor autoconsciente. Rastrear suena como si fuera a caer en la última categoría. Producida por Sam Raimi, la película protagonizará a Kaya Scodelario de Maze Runner como una mujer joven que intenta salvar a su padre durante un huracán de categoría 5, solo para encontrarse atrapada en una casa inundada llena de caimanes.
El trabajo en Crawl comenzó la primavera pasada, por lo que no sabemos con seguridad si estará listo para el 2019 o no. Basado en ese concepto central, debería ser un viaje salvaje cada vez que aparezca.
THE TURNING
Primero, es de Amblin Entertainment de Steven Spielberg. En segundo lugar, es una versión moderna de la novela clásica de Henry James The Turning of the Screw . Por último, pero no menos importante, tiene un elenco realmente genial, incluido Mackenzie Davis, de Blade Runner 2049 , y Finn Wolfhard, de Stranger Things .
The Turning se lanzaría el 22 de febrero, pero Universal lo retiró de la agenda hace unos meses, dando su lugar a Cómo entrenar a tu dragón 3 . A partir de ahora, no han anunciado una nueva fecha, por lo que nadie sabe cuándo aparecerá la película.
MIDSOMMAR
Ari Aster hizo un gran revuelo en 2018 con Hereditary, que obtuvo excelentes críticas y un fuerte retorno de taquilla. Su secuela se llamará Midsommar y tiene el potencial de ser otro ganador.
Mucho sobre la película se mantiene en secreto, pero sabemos que la historia es sobre una mujer (Florence Pugh) que se va de viaje con su novio, solo para encontrar algo que asusta en un pequeño pueblo sueco. A24 lanzará Midsommar , tal como lo hizo con Hereditary . Todavía no está oficialmente en el calendario, pero como la película está en postproducción, una apertura en 2019 es una posibilidad real.
Las 16 películas de terror más esperadas en 2019
Hoy, tenemos las 16 películas de terror más esperadas en 2019. 2018 fue un año fantástico para las películas de terror. Los principales lanzamientos de estudio A Quiet Place, Hereditary, The Nun y Halloween fueron éxitos de taquilla considerables. Películas indie como Ghost Stories, The Devil's Doorway y Welcome to Mercy tuvieron éxito al abrir en teatros selectos y estar disponibles para alquilar a pedido de manera simultánea, lo que supuso un auge en las listas de VOD. Estas y otras películas demostraron una vez más lo que saben todos los fanáticos del género: que el horror es un formato a través del cual se pueden contar historias inteligentes, artísticas y provocativas.
Las 16 películas de terror más esperadas en 2019
Debido a que 2018 fue un año tan sólido, 2019 tendrá un gran trabajo, si quiere igualar el nivel de calidad que hemos visto en los últimos doce meses.
ANNABELLE 3
Annabelle y su secuela Annabelle: Creation fueron muy exitosas en los teatros de la nación. A nivel nacional, ganaron $84 millones y $102 millones respectivamente. Descubriremos si los taquillazos pueden volver a ocurrir con el lanzamiento de la tercera entrega en julio de 2019.
Annabelle 3 tiene la que puede ser la premisa más aterradora de la franquicia hasta el momento. La muñeca poseída tiene como objetivo a la joven hija de Ed y Lorraine Warren. Más espeluznante aún, da vida a todos los demás elementos encantados en la sala de artefactos de Warren. Suena como la receta perfecta para asustar.
LA MALDICIÓN DE LA LLORONA.
Probablemente aún no conozcas el nombre de Michael Chaves, pero hay indicios de que pronto lo sabrás. James Wan lo contrató personalmente para dirigir The Conjuring 3 después de sentirse impresionado por su cortometraje The Maiden. Antes de que se lance esa secuela, el público podrá ver el trabajo de Chaves con su debut en el largometraje, The Curse of La Llorona, de abril.
Linda Cardellini protagoniza la película, que trata sobre una trabajadora social cuya familia queda atrapada en lo sobrenatural después de un encuentro con una madre con problemas. Al parecer, Wan piensa que Chaves tiene los bienes como un director de terror, por lo que será divertido ver de lo que es capaz.
PET SEMATARY
Pet Sematary de Stephen King se convirtió previamente en una película en 1989. Fue un éxito modesto, aunque muchas de las críticas fueron duras. La próxima nueva versión, prevista para abril, intentará ser un poco más fiel al tono del libro.
Jason Clarke interpreta a Louis Creed, el hombre que entierra al gato de su familia en una misteriosa parcela de tierra, solo para sorprenderse cuando el felino de alguna manera recupera su vida en una forma más agresiva. Pet Sematary está dirigida por Kevin Kolsch y Dennis Widmyer, cuyo Starry Eyes sacudieron a la crítica y al público hace cuatro años.
EL DEMONÓLOGO.
El Demonólogo tiene una trama que suena deliciosamente loca. Brian Krause interpreta a un detective que investiga una serie de asesinatos. En el proceso, descubre que un culto está planeando convocar a cuatro King Demons para destruir el mundo como lo conocemos. Sólo él puede evitar que esto suceda.
IT: CAPÍTULO DOS
It se trata de una novela tan masiva que no había forma en que la historia podría ser contada en una sola película. La primera mitad del libro se adaptó a un éxito de taquilla de 2017 que recaudó $ 700 millones en todo el mundo. Se centró en los personajes de niños. La secuela, It: Chapter Two , se centrará en ellos como adultos.
Pennywise el payaso está configurado para aterrorizar a un elenco estelar esta vez. Jessica Chastain interpreta a la adulta Beverly, James McAvoy es Bill, James Ransone es Eddie y Bill Hader es Richie. Bill Skarsgard, mientras tanto, volverá a interpretar su papel de estrella como malvado payaso. La película se estrena en septiembre.
SCARY STORIES TO TELL IN THE DARK
Justo después de ganar el Oscar por The Shape of Water , el director Guillermo Del Toro se unió para coescribir y producir Scary Stories to Tell in the Dark , una adaptación de la serie de libros de Alvin Schwartz. Sigue a un grupo de adolescentes que intentan resolver el misterio de por qué tantas personas en su pequeño pueblo están muriendo inesperadamente.
EL PRODIGIO
Taylor Schilling regresa a la pantalla grande el 8 de febrero con The Prodigy. Se convierte en la madre de un niño que tiene problemas de comportamiento. Ella llega a creer que sus acciones podrían tener una causa sobrenatural.
47 METERS DOWN  2
47 Meters Down fue un éxito durmiente en el verano de 2017. Si viste ese thriller de ataque de tiburones, sabes que al menos uno de los personajes principales no pudo regresar para la secuela. El otro tampoco, ya que la secuela, subtitulada Uncaged, va en una dirección diferente.
En esta ocasión, cinco jóvenes buceadores descubren una ciudad submarina. Obviamente, está infestado de tiburones que están ansiosos por picarlos. Nia Long, John Corbett y Corinne Foxx, hija de Jamie Foxx,  protagonizan. Johannes Roberts, una vez más, asume los deberes de dirección
SCAPE ROOM
Las salas de escape se han convertido en un fenómeno en los últimos años. Tú paga dinero para quedarte encerrado en una habitación, luego tiene una hora para seguir las pistas ocultas dentro de esa habitación para salir. Esta película, titulada apropiadamente, da un giro de horror a la idea, ya que seis extraños intentan salir de una llena de peligrosas trampas explosivas. Si has visto el trailer, ya sabes lo raro que se ve.
JACOB'S LADDER
Lanzada en 1990, Jacob's Ladder protagonizada por Tim Robbins como un veterano de la guerra de Vietnam que soportó el proceso psicológico de "disociación", una separación de la realidad física y emocional de la persona. Aunque no fue un gran éxito, el poder de la película sacudió a quienes la vieron, convirtiéndola en un eventual favorito de culto. Una nueva versión de la historia se lanzará en febrero.
La nueva cinta  supuestamente no es un remake directo, sino una versión actualizada que mantendrá los temas, así como el ambiente surrealista. Veremos si puede superar el original en febrero.
TALL GRASS
Vincenzo Natali es un director de terror inventivo cuyas películas incluyen Cube y Splice. Tenerlo abordando una historia escrita por el autor Joe Hill y su famoso padre Stephen King parece un sueño hecho realidad para los fanáticos del género. En el Tall Grass se trata de un hermano y una hermana que vagan en un campo grande y desorientador después de creer que escuchan el grito de un niño pidiendo ayuda desde el interior. Patrick Wilson es uno de los protagonistas.
En el Tall Grass será una producción original de Netflix. La compañía emitió un comunicado de prensa diciendo que debutarán la película en su servicio de transmisión a fines de 2019.
NEW MUTANTS
En un mundo perfecto, el público ya habría visto Nuevos Mutantes. Originalmente, se suponía que este spin-off de X-Men con temática de terror saldría en abril de 2018. El trailer se estaba reproduciendo en los cines y los carteles colgaban en los vestíbulos. Luego, un mes antes del lanzamiento programado, 20th Century Fox anunció que estaba recuperando la película un año y medio completo para que los re-rodajes dieran más miedo. Un nuevo personaje también fue agregado a la historia.
Solo el tiempo dirá si esos reshoots hicieron el truco. Descubriremos cuando New Mutants finalmente abra el 2 de agosto.
BRIGHTBURN
James Gunn, tiene una habilidad especial para contar historias fuera de lo común. Su guión para el próximo Brightburn continúa con este rasgo al darle un giro oscuro al mito de Superman. Elizabeth Banks y David Denman juegan una pareja que vive en una zona rural. Adoptan un infante extraterrestre que cae del cielo. Sin embargo, en lugar de ser un héroe con superpoderes, el niño tiene malas tendencias.
Sony, obviamente, tiene mucha confianza en que el giro de Brightburn atraerá a las masas. El estudio lo lanzará en el lucrativo fin de semana del Memorial Day.
HAPPY DEATH DAY U2
Happy Death Day salió de la nada en 2017. A pesar de no tener estrellas de gran nombre, recaudó$122 millones en todo el mundo, frente a un presupuesto de menos de $5 millones. Las audiencias estaban intrigadas por la historia inspirada en el Día de la Marmota sobre una mujer joven cuya vida termina una y otra vez.
La secuela, Happy Death Day 2U , encuentra al asesino enmascarado una vez más obligando a la heroína Tree (Jessica Rothe) a repetir su último día, pero también a todos los que la rodean.
CHILD'S PLAY
Se rumorea que Chucky es un poco más de alta tecnología en esta nueva versión, que refleja los avances en la fabricación de juguetes desde finales de los años 80. Aubrey Plaza y Bryan Tyree Henry de Atlanta protagonizarán la película, que se lanzará en junio.
US
El comediante Jordan Peele hizo una de las películas de terror más incisivas y aclamadas de los últimos tiempos con Get Out . Su seguimiento, titulado Nosotros , sale el 15 de marzo.
Lupita Nyong'o y Winston Duke representan a una pareja que visita una casa en la playa con sus hijos y su buena amiga (Elisabeth Moss). Las relajantes vacaciones se detienen abruptamente con la llegada de algunos visitantes no deseados. Más allá de eso, los detalles de la trama se mantienen firmemente bajo llave. Si contiene tantas sorpresas como Get Out , cuanto menos sepamos antes, mejor. Esta será fácilmente una de las películas más esperadas de 2019.